As much as I am loving the hot days we are blessed with in London at the moment, this weather presents challenges when it comes to dressing for work meetings and speaking gigs.
Have you ever had to deal with fabrics clinging to your body, sweat stains (not elegant, I know!) or simply feeling uncomfortable in your clothes because of the heat? Not ideal, to say the least. Not to mention this is also distracting and affects our work  because when we aren't comfortable, it's harder to focus or present our best selves to others.
How to look professional and stylish in summer is one of the most frequently asked questions I get as a style consultant.
With most summer collections being more suitable for the beach than boardroom, it is not surprising many women struggle to find something that is both light/summery and looks professional at the same time.
If you are a business owner or a professional woman with busy schedule, this blog is for you. With three scenarios most business women encounter in their work week in mind, I have created easy-to-put-together style formulas that will help you look fresh, feminine and professional on any business occasion.
Situation 1: Speaking or Presenting
When we are in the spotlight, it is natural that we want to show up as our best selves, as all eyes are on us. Any self-consciousness will show, so it's really important to get the style right for you.
This is my easy to put together and customise outfit formula for stage or presenting:
silk shirt or blouse + bright coloured skirt + statement necklace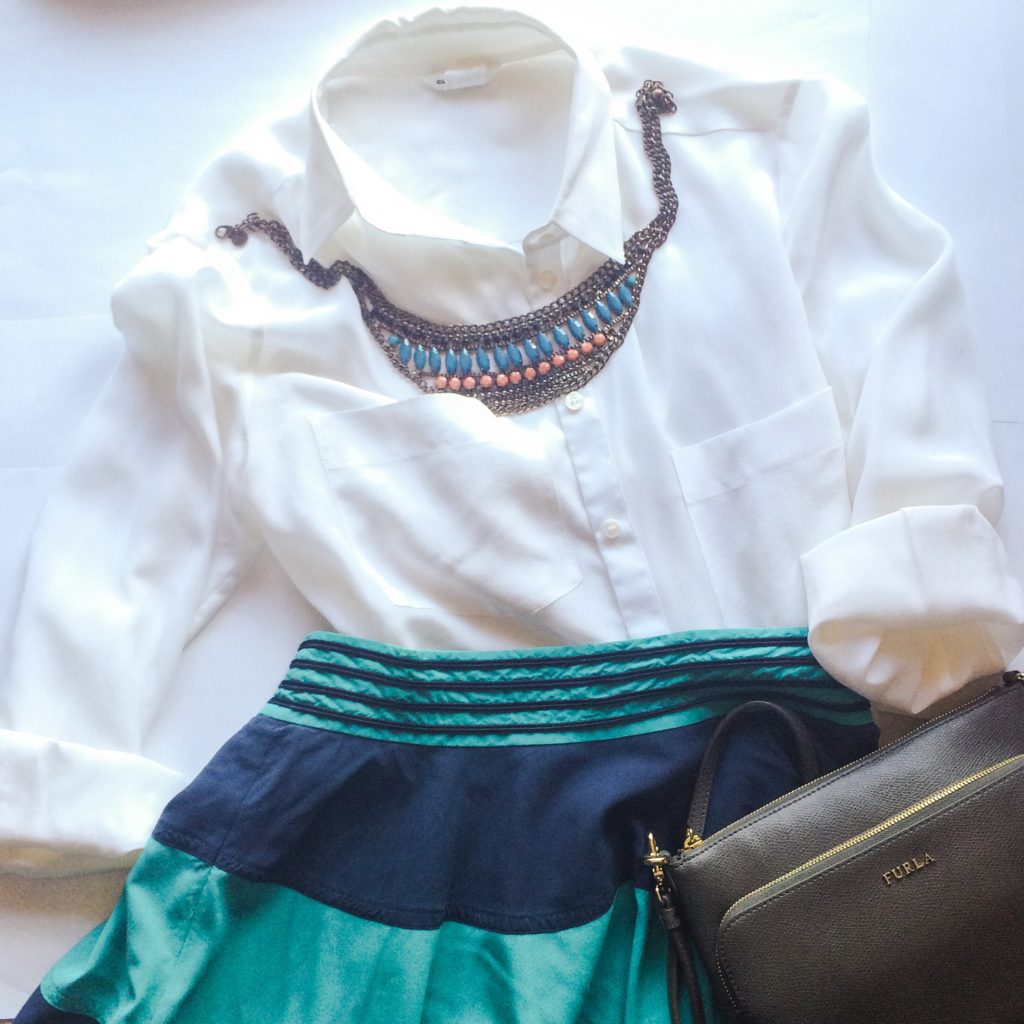 You can easily make this outfit your own:
wear your favourite pattern on your skirt or keep it simple with one tone if you are a minimalist,
necklaces add a real flavour and you can choose what that flavour is: classic with pearls, playful with bright colours, edgy with leather and metal…
don't forget the shoes, that's another opportunity to express your personal brand
And this formula can be easily transformed into an autumn look, just choose a skirt in heavier fabric and add a coat.
Things to keep in mind:
Whatever you choose to wear, make sure you are comfortable and, very importantly, feel authentic to yourself.
You want to be able to move freely and feel unrestricted. And don't forget to check how you look from all sides not just your front. 😉
Situation 2: Evening Networking Event
Oftentimes, as busy professional women we do not have time to change before going to an evening event after work. Wearing something that, with a few small adjustments, can take you from day to night will save you energy, time and ensure you still look and feel great even after a day of work.
A wrap dress (or an elegant shirt dress) is a perfect summer item. It is light, feminine, stylish and versatile, meaning it can be dressed up or down with the help of accessories.  Make sure your dress is not too tight or clingy and is made out of a breathable fabric mix.
Here is an easy formula for a day-to-night look:
Light summer wrap dress + silk scarf + block-heel shoes for a day in the office
Swap your scarf for a statement necklace and slip into bright coloured shoes and you are ready for your evening event.
Things to keep in mind:
Don't be afraid of bright colours, they will help you to stand out for all the right reasons.
Statement necklaces, beautiful shoes and handbags are great conversation starters. So why not make it easy for people to approach you by wearing one or more of these conversation starters?
Situation 3: New Client or JV meeting
For a smart summer look, it's good to have an easy-to-wear light yet smart summer dress.
Again, make sure to choose a natural breathable fabric mix, such as silk, cotton, linen so you don't overheat.
Bring a smart blazer to wear in cold meeting rooms or restaurants or simply to smarten up your dress. Easy!
Summer day meeting style formula:
sleeveless dress in a neutral colour + bright belt and shoes + summer blazer + stylish jewellery + statement bag
Things to keep in mind:
Classic dresses in neutral colours make great staples in your summer wardrobe. All you need is a variety of accessories, such as belts, bags, jewellery in various colours to update your looks.
Accessories is the easiest way to add summer colours, such as juicy coral above, to your outfit, especially if you are colour shy.
You can replicate this style formula for a new season by choosing a wool dress and darker tones for your accessories.
---
If you have enjoyed these tips, you will love my free Style Guide for Women in the Spotlight, where I go in much more details about how to look and feel your best on and off stage. Download your free copy here.